Career Opportunities in Fashion Design
The mere mention of the word 'fashion' transports us to a world of celebrities, runway models, designers showcasing exquisite garments and a fair deal of glitz and glamour. The cut-throat world of fashion has always been a lucrative career option for the young with only a handful of them getting their claim to success. If attributes like patience, persistence, creativity, ingenuity with a flair for colours and fabrics are what define you, then the field of fashion design could be your calling!
Upon completion of your graduation in completion of your graduation in fashion design, you may find yourself at a crossroads and maybe unclear on the career path to choose. The career options that lie ahead of you are limitless but here we have tried to explore the most exciting and fascinating line of work in today's times.
Fashion Designer
Flipping through the glossy pages of Vogue, Harper's Bazaar and Grazia one can't help but be fashion-struck looking at models wearing spectacular garments designed by a host of designers like Sabyasachi, Tarun Tahiliani, Louis Vuitton, Anita Dongre, Ritu Kumar, Gucci, Rohit Bal, Armani and Manish Malhotra to name a few. This also gets one thinking of the team that must toil day-in and day-out to translate these collections into reality and portray them as ever so desirable.
Being a fashion designer seems like the next obvious path to tread upon completion of your graduation in fashion design. But, it is easier said than done! Apart from subject matter knowledge acquired during your formal education years, you will have to endure as many internship and freelance stints as possible too. This will help you gain a better perspective of how the industry functions and how you can carve your niche here.
Fashion designers are considered to be the heartbeat of the fashion world and only the creative best are able to thrive in this challenging industry. As a fashion designer you will be the one who visualises the garment and works through the entire process from concept to development ensuring the final garment is as you envisioned. You can choose between working with an established design label or foray into creating your own label/line of clothing. Irrespective of the path you opt for, there are some skills/qualities that would certainly help you succeed :-
Contextual understanding – explore and analyse the garment in its entirety taking into account various aspects such as client's budget, weather conditions, culture, etc.
Business acumen – understanding the tools of the trade will help you make informed decisions
Sketching/drawing – this will aid in bridging the gap between concept and development phase and facilitate easier communication with clients
Communication skills (verbal and written) – this skill is vital to be able to present your ideas/concepts to the prospective client and market your creations
Technical skills – this would include skills such as sewing, patternmaking, draping and CAD programs (Photoshop, Illustrator, etc.) that a fashion designer cannot do without
Networking – talent is most essential but you must always remember to be in the right place, at the right moment with the right person.
Openness to experimenting – there is a constant demand for new designs, trends and styles that can be met only with intelligent experimentative projects
The outlook for this career seems strong owing to the inherent nature (constant evolution) of the fashion industry. Despite the textile and clothing sector being one of the oldest in India, the Indian fashion industry is still in its infancy and is steadily inching towards global recognition. As per Indian Brand Equity Foundation (IBEF), the domestic textile and apparel industry in India is set to reach USD 141 billion by 2021 up from USD 61 billion in 2014.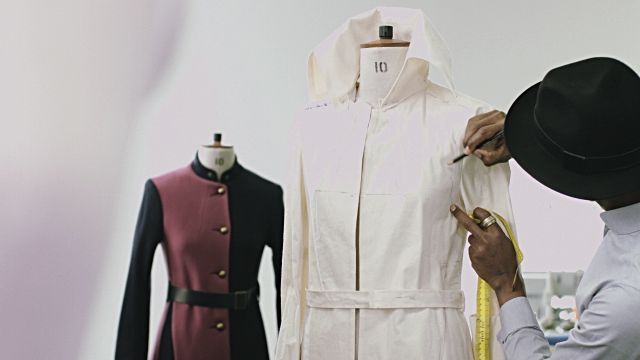 A fashion designer refining his creation. Image credits : Getty Images
Fashion Stylist
In our celebrity-driven culture, fashion stylists have definitely made their mark and will continue to add the much needed splash of glamour to the persona of public figures. Stylists are no less than magicians who help accentuate an individual's look with a swish of their wand! Striking the right balance is the key to creating the perfect look for your client.
To be able to launch your career as a fashion stylist, you must bear in mind to gather as much experience and knowledge about the craft. Travel to various fashion hubs across the country/globe and learn about the myriad fashion trends. Travelling is something that comes with the job of being a stylist, be it attending trade shows or sourcing the elements for an editorial shoot. Having a sound knowledge of the creative and technical aspects of fashion design will help you create appropriate fashion looks for the prospective/acquired client. Intern as much as possible as it will teach you valuable on-ground lessons not taught in schools and will also help you build handy contacts. Companies value degrees but they always place experience on a higher pedestal and this is where interning will certainly be of help.
As a stylist, you can either work for a magazine or choose to work independently, in which case you would be ideally represented by an agent who helps get the word out.
With skill-sets acquired during your fashion design programme at a design school and armed with the right contacts, you are bound to have a professional advantage in the marketplace. Acing some of the skills listed below will help you race ahead of the rest :-
Sense of style – this includes a personal sense of style as well as being aware of your client's style too as a stylist is a complete package (style and an image)
Objectivity – you need to learn how to separate your personal style from your client's as it is important to remember that you are not styling yourself rather your customer
Networking – keep pushing your way forward and making connections with various creative professionals you collaborate with like photographers, models, hair & makeup artists, etc.
Business skills – a stylist needs to know how the fashion industry chugs along so that communication & coordination with various vendors, working within a budget and handling purchasing does not become an overwhelming ordeal
Being organised – they key to being a successful stylist is planning which calls for being a calendar junkie, organising your day, managing inventories and making sure you check all the things on your to-do list
Eye for detail – an artistic eye for detail (be it colour, texture, silhouette, etc.) or the lack of it can either make or break an ensemble
Abreast with latest trends – in order to be able to advise your client on what's hot and what's not, you need to keep yourself up-to-date with the latest fashion trends, styles and designs
Style is an inherent talent that needs to be honed with experience and practice. There is immense scope for growth in this field as there is and always will be a need for stylists. You can begin working as an assistant to a senior stylist or can begin taking up small projects to carve your niche in the industry. There is no dearth of jobs for stylists as celebrities need to be styled for award functions, photo shoots, parties, television shows, advertisements and various public appearances. But this profile is not to be taken lightly in any manner as styling someone comes with a lot of responsibility.
"Style is a way to say who you are without having to speak." – Rachel Zoe, an American Fashion Designer, businesswoman and writer
A fashion stylist on set at an editorial shoot with the model and photographer. Image credits : All About Styling
Costume Designer
What do movies likes Bajirao Mastani, Jodhaa Akbar, Haider, Black, Devdas and Lagaan have in common? Striking costumes that brought the script to life and infused the sets with emotion, drama and fashion! Costumes play an integral role in communicating a director's vision of the era, lifestyle and character's personality through some obvious design elements. They aid in lending an aspect of reality or adding a new dimension to the actor's persona essaying the specific role.
The first prerequisite for a costume designer is to understand the demand of the script, reflect upon it and visualise the costume elements of the characters vis-a-vis each scene form the plot. During the entire process, you will be brainstorming various concepts with the director, production designer, make-up and hair artists, set designer, lighting designer and other creative personnel on board.
As you begin your journey in the exceedingly creative field of costume design, you will ideally be given the role of a costume assistant or wardrobe trainee. Needless to say, a costume designer must also have the fundamental skill sets Some of the skills that will come in handy are :-
Knowledge of costume history and modern fashion – a costume designer must understand the art of skillfully blending period costumes with a tinge of modern fashion
Garment production skills – practical garment production skills like pattern cutting, hand and machine sewing and dressmaking are vital to becoming a successful costume designer
Research skills – you ought to be skilled in research as you will have to conduct an in-depth study on the costume styles, designs and garment constructions prevalent during the era in focus
Eye for detail – you need to possess an artistic eye for detail to make sure the textures, colours, etc. are balanced with the scene and the director's vision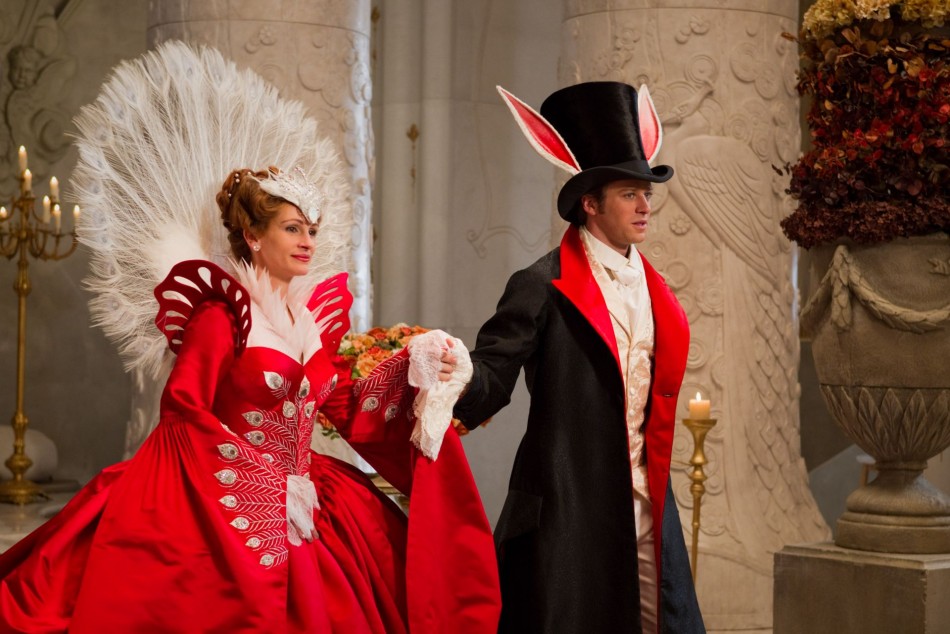 Julia Roberts and Armie Hammer in a scene from Mirror Mirror for which the costumes were designed by legendary designer Eiko Ishioka. Image credits : Design Trend
Apart from the above listed skills, possessing a wide cultural knowledge base adds to your skill-sets and will hold you in good stead in the marketplace. Here's a tip, in order to design appropriate costumes for various characters in the script, try breaking down the script into individual costume plots. This will help you take a headcount of the number of characters involved in the plot and costumes required for each of them.
Fashion Illustrator
If you are someone with a strong individual sense of style coupled with great drawing/sketching skills, then pursuing a career as a fashion illustrator could be a wise career decision. Fashion illustrators are highly skilled professionals who create sketches of beautiful illustrations of garments created by fashion designers using various media like charcoal, paint, etc. The creative perimeter of a fashion illustrator is not restricted to creating illustrations that convey the designer's creation, but an illustrator's artwork can also be treated like a piece of art. Fashion illustrators can be employed by design houses, magazines, newspapers, advertising companies or can even chose to work independently.
Ideally, companies give a design brief to the illustrator along with the target customer and the goal the company wishes to achieve with the specific clothing line. The illustrator then sketches the look as per the assigned theme and ensures the colour palette and design elements are uniform across the illustrations.
The field of fashion, much like its creative counterparts, is extremely competitive and therefore, one must constantly strive to be versatile and have diverse skills that help you keep afloat and sail ahead of the swarm. Some skills that leverage your potential as a fashion illustrator are :-
Personal style – for your work to be noticed in the crowd, you must develop an identifiable individual sketching style that speaks volumes about your technique and helps you stand out
Software skills – a sound grasp over digital illustration tools is necessary and will definitely place you amongst the higher category in the marketplace
Observational skills – be a keen observer and absorb everything that you possibly can
Technical skills – a knowledge of human composition and anatomical life drawing will certainly help you as an illustrator
Fashion illustrators are much in demand with a boom in blogging and social media platforms where illustrators can exhibit their skills. The rise in demand can also be attributed to the consumer's increasing interest in fashion and related fields. Moreover, there seems to be a saturation of digital work in the market and thus illustrations provide the consumers a fresh perspective on fashion.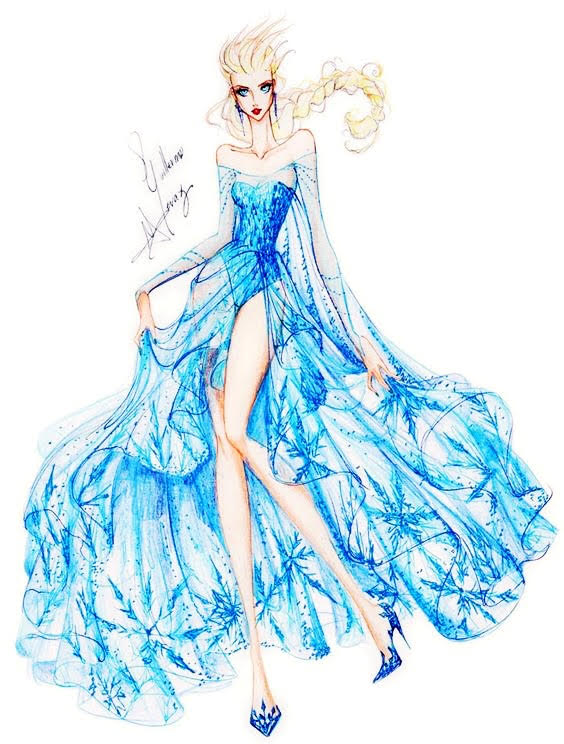 A beautiful illustration of Queen Elsa's (from Disney's Frozen) chiffon dress by famed fashion illustrator, Guillermo Meraz. Image credits : Pinterest
Visual Merchandiser
When you walk past a stunning window display or walk into an aesthetically designed showroom, you are always tempted to either enter the store or splurge some money on the assortment of merchandise on display. This visually appealing and engaging brand experience is courtesy the genies of the retail industry – the Visual Merchandisers! There are two main aspects to Visual Merchandising – In-store Design and Window Display. In-store design has everything to do with the store layout and design, point of purchase displays, assortment display, item display and signage placements. While on the other hand, Window Display is the creative yet tactful display of merchandise on a retail store's window.
At first glance, this might not come across as an appealing career prospect but trust me there's more to it than meets the eye. Visual Merchandising has carved its niche as a critical marketing tool in the advertising industry of developed countries and is catching the attention of the Indian market as well.
As a Visual Merchandiser you will be tasked with augmenting the look and feel of the store as it is 'the' most significant factor that helps in higher sales and profitability of the brand! You will have to play around with an array of lights, props, colours and graphics to exhibit the product/service in the most creative and sophisticated manner and captivate the customers. All these are nothing but intelligent marketing gimmicks to grab the customer's attention, lure them into the store, create a visually engaging experience and last but most importantly, positively influence their purchasing decisions.
Some of the skills that would help you ace your job as a Visual Merchandiser are :-
Individual sense of style – with an impeccable sense of style, fashion, design and colour you will be in a better position to ideate attractive displays for the fashion store
Technical skills – as a visual merchandiser proficiency in CAD software will come in handy when you have to present your ideas to the client and convince them about the concept
Interpersonal skills – communicating/presenting ideas or marketing your skills to the client is an integral part of being a designer and therefore must not be overlooked as a must-have skill
Eye for detail – paying attention to finer details in a project always adds volumes to the overall appeal of the product display
Time management – time is money and it holds true in the visual merchandising profession too. Visual displays are dynamic and are changed on a regular basis. You will need to execute projects in crunch time and this calls for efficient time management.
General awareness – fashion is a constantly evolving field and being a professional in this industry you have to be abreast with latest trends in fashion, design and culture
Working within budgetary constraints – budgets are always intimidating but a skilled designer will always use his/her creativity to judiciously use resources at hand and recycle to the best possible extent without compromising on the deliverables
With a rise in disposable incomes within Indian households, customers are no longer willing to settle for mediocre store layouts and window displays. Therefore, in this cut-throat competition, retailers are resorting to Visual Merchandising as their core differentiator. Visual Merchandisers are much in demand amongst employers like Fashion Retailers, Department Stores, Malls, Museums, Galleries, Airports, Hotels and even Internet Shopping Portals.
Display of paper dress lamps at the IFC Mall in Hong Kong. Image credits : Pinterest

The world of fashion has always held our attention for generations together and continues to do so with the myriad timeless, classic, whimsical and unique masterpieces created by passionate and skilled professionals over time. People long to find their home in this challenging industry and I strongly believe you are no different as otherwise you wouldn't have stuck around till the end. I shall end with an inspiring quote by Andre Gide that says, "People cannot discover new lands until they have the courage to lose sight of the shore." So muster the courage to chase your dreams!
PLAGIARISERS BEWARE!
This Website and its contents are subject to copyright protection under the Indian Copyright laws and, through international treaties for/ of other countries. The copyright in the contents and materials available on this Website as a whole is owned by the IIAD. However, the copyright in some contents and materials incorporated within this Website may be owned by third parties where so indicated. No part of the contents or materials available on this Website may be reproduced, licensed, sold, published, transmitted, modified, adapted, publicly displayed, broadcast (including storage in any medium by electronic means whether or not transiently for any purpose save as permitted herein) without the prior written permission of IIAD. The visitor may view this Website and its contents using Web browser and save an electronic copy, or print out a copy, of parts of this Website solely for visitor's own information, research or study, provided the visitor (a) do not modify the copy from how it appears in this Website; and (b) include the copyright notice "© 2014 to 2018 Indian Institute of Art and Design (IIAD). All rights reserved.″ on such copy.
IIAD's logo/ name should never be removed from pages on which they originally appear. The webpages should always appear exactly as posted without variation unless the prior written approval of the Organisation is obtained.