We live in a hyperlinked, hyper-connected world!
Whatsapp, Instagram, Snapchat, Facebook, Youtube, Google, have become verbs that represent "things we do" to connect with the world and get access to information.

Siri, Robin, Iris, Maluuba are not just people and pets but voice-recognition programs in our phones that help satiate our constant craving for communication and information.
Essentially, we are constantly getting information or giving it. We do this through old and new media devices – the television, radio, newspapers, books and other print media, phones, laptops, tablets, and now even watches!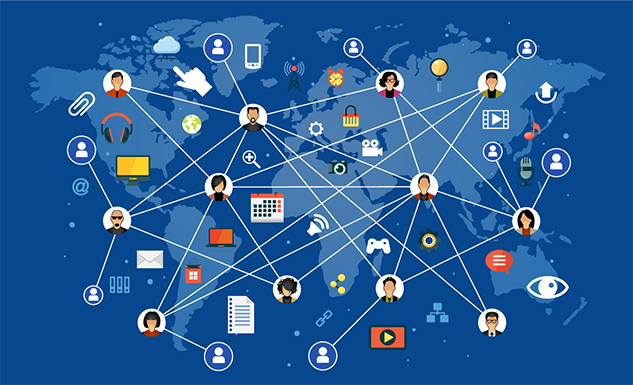 Ever wondered who brought to life fantastic stories like the Game of Thrones, Bahubali, Star Wars, and Ironman! Or who combined our love for confectionary and gaming on a platform called Candy Crush Saga? Who thought of the Apple logo, the tick mark in Nike and the golden arches of McDonlad's? Where did fonts like Times New Roman, Helvetica and Calibri come from?
All of these things, images, words, and technology that surround us are part of communication design! The phrase may be new to you but if you have been exposed to any of the things mentioned above, you have been a beneficiary of this design discipline.
Still confused?!
Think about animation, multimedia, graphic designing, illustrations, typography, photography, logo design, user-interface (UI) and user experience (UX) design, and print media design. All of these terms that you may have heard of in isolation come together to form communication design.
How you ask?
Communication Design is about understanding and learning different media and using them in a strategic manner to communicate with someone. Let us take an example. When a new movie is about to release, a team of communication strategists and designers work together to ensure that you know about the film. This is done through, promos and trailers being created and uploaded on various video-streaming platforms, on social media, television, and radio. You also see movie posters in newspapers and magazines, hoardings, a dedicated website for the movie where you get to learn trivia about the movie and the actors, gaming apps for your phones with the animated characters based on the lead actors of the film. There are action figures, t-shirts and other merchandise that is made available for fans to purchase. The movie's communication strategists and designers use many technologies and media available to them to make the movie look really good and get you excited about the film's release. This team includes filmmakers, photographers, graphic designers, application developers and UX/UI experts, digital marketing and mass media experts.
A communication designer in this sense is a "strategist" who knows how and which static, dynamic and interactive media to use to create and pass on information about a product, service or experience to the customer or end-user.
According to CII's India Design Report 2015, visual communication design and new media design are the most popular disciplines for young design practitioners! As per the same report, there is a need for designers with a multi-disciplinary (knowledge of various media and disciplines) education/training/experience to serve the media and entertainment industry, which is expected to grow at a Compound Annual Growth Rate (CAGR) of 15.2% per annum and touch Rs. 16610 crores by the year 2017!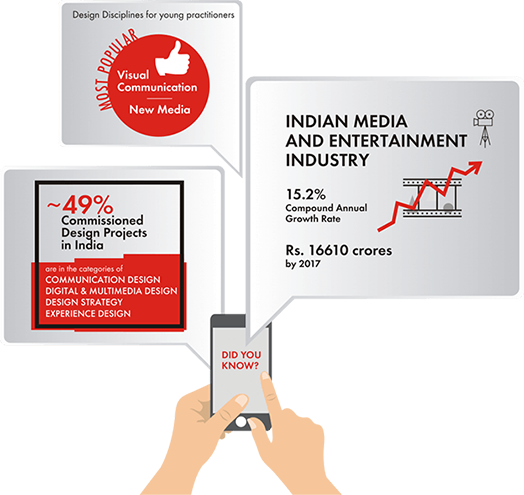 * As per CII India Design Report 2015
Given these industry trends, new-age design schools are offering undergraduate BA (Hons) programmes in Communication Design so that design aspirants can get adequate exposure to the various fields that are part of Communication Design before they enter the workforce and choose their calling as multi-disciplinary designers and strategists or become experts in a specialised design discipline within communication design.
In the upcoming article, we will talk about the difference between being a multi-disciplinary communication designer and a designer specialising in one or two technologies or media.
Stay tuned!
PLAGIARISERS BEWARE!
This Website and its contents are subject to copyright protection under the Indian Copyright laws and, through international treaties for/ of other countries. The copyright in the contents and materials available on this Website as a whole is owned by the IIAD. However, the copyright in some contents and materials incorporated within this Website may be owned by third parties where so indicated. No part of the contents or materials available on this Website may be reproduced, licensed, sold, published, transmitted, modified, adapted, publicly displayed, broadcast (including storage in any medium by electronic means whether or not transiently for any purpose save as permitted herein) without the prior written permission of IIAD. The visitor may view this Website and its contents using Web browser and save an electronic copy, or print out a copy, of parts of this Website solely for visitor's own information, research or study, provided the visitor (a) do not modify the copy from how it appears in this Website; and (b) include the copyright notice "© 2014 to 2017 Indian Institute of Art and Design (IIAD). All rights reserved.″ on such copy.
IIAD's logo/ name should never be removed from pages on which they originally appear. The webpages should always appear exactly as posted without variation unless the prior written approval of the Organisation is obtained.