5 Western Outfits Inspired by Indian Fashion Elements
Khadi. Chanderi. Ikkat. Ajrakh. Tanchoi. Zari. Kanjeevaram. Bandhani. These names can take one on a journey spanning the length and breadth of Incredible India. Whether you're a fashion design institute student hungry for a muse, or a fashion-conscious citizen; with its rich textile culture developed over centuries, it is no surprise that Indian clothes and patterns have become the source of inspiration for many worldwide. In today's globalized context, these names not only take one on a journey within India but have also found their place overseas.
Today, sari blouses double as crop tops and bindis are commonplace in Coachella, complemented by high-waisted jeans and vintage dark-tinted Ray Bans. Bollywood might have had a role to play in highlighting the variety of Indian fashion, or street-spotted fashionistas have shown the world an aspect of Indian fashion that seemed to appeal. Whichever is the case, the signs of Indian influence on global fashion are unmistakeable.
Below is a list that would inspire both fashion designers in India and abroad because these outfits are an epitome of fusion across cultures. Some materialize on the dazzling runway, and some in sunlit alleyways. Some are shot on five figure DSLRs and some on trusty iPhone cameras. Nonetheless, they reveal the (physical) distances creativity can travel, and amalgamate into a new age fashion of sorts.
1. Chanel's Paris-Bombay fairytale
For Chanel's 2012-13 pre-autumn/winter collection, Karl Lagerfeld drew inspiration from the Maharaja era and created "Paris' version of the idea of India". The collection was magical and even explored the androgynous abilities of traditional Indian outfits. Lagerfeld drew inspiration from a lot of men's clothes claiming, "they're easier to wear".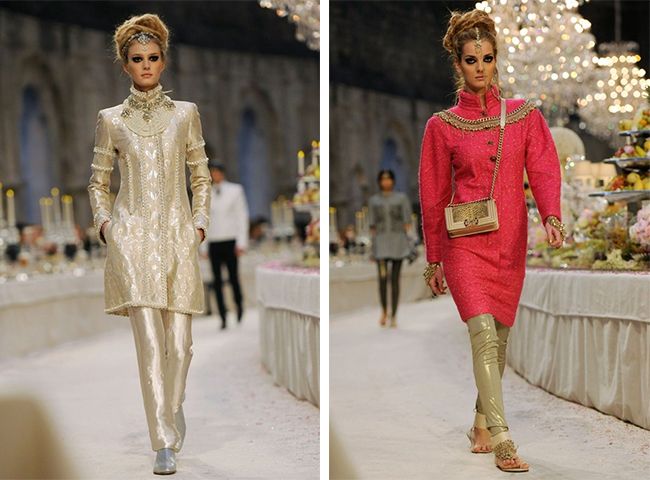 (Image via Vogue)
The outfits were identifiable as Indian-inspired, with kurtas, drapes, adorned headpieces, moccasins and beaded slippers being the obvious few elements spanning the collection. It was gracefully executed, and the set-up was complete with high tea, crystal decanters, and even a toy steam train.
(Image via NDTV Goodtimes)
Above, it is evident how the European trench coat got a kurta updo while staying true to Chanel's sophistication and signature boots.
2. Dries Van Noten's love for hand-embroidery
The Belgian fashion designer gladly admitted in an Elle India interview how India has contributed "hugely" to his design sensibility. Having worked with Indian craftspeople since 1987, Van Noten is considered a pioneer in being a Western designer inspired by Indian fashion.Interestingly, he has high regard for the sari because it allows flexibility of the fabric, as one does not have to cut it up and instead can let the cloth take its natural course. He also points out that with a sari, which is essentially cloth wrapped around.
Interestingly, he has high regard for the sari because it allows flexibility of the fabric, as one does not have to cut it up and instead can let the cloth take its natural course. He also points out that with a sari, which is essentially cloth wrapped around the skin, beauty is derived from the attitude of its wearer.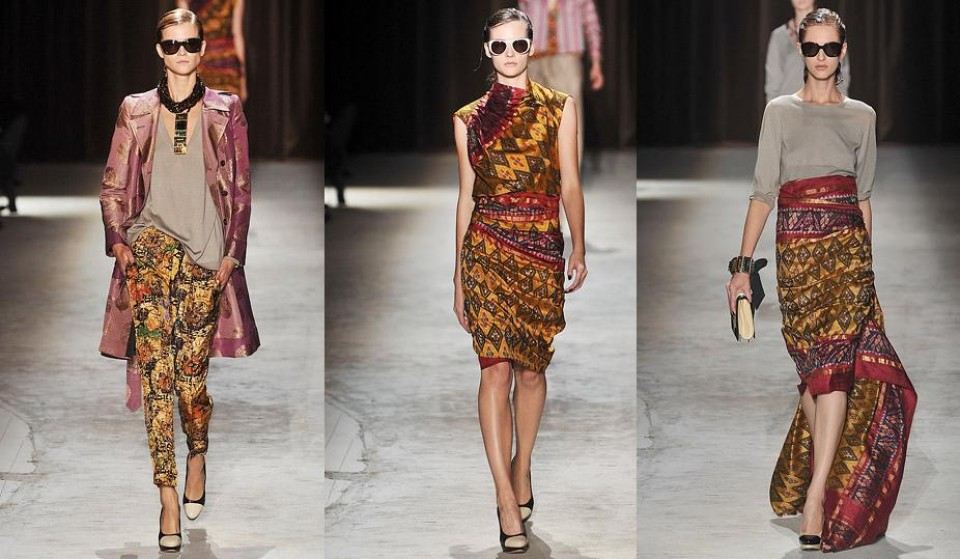 Dries Van Noten S/S 2010, Inspired by the way saris are wrapped around the skin. (Image via Squa.re)
Van Noten's inspiration from Indian fabric, styles and fashion are evident in his own collection, especially in his use of embroidery.
Embroidery from the menswear FW16 collection (Image via Buro247 | Photo by Schohaja)
In fact, the designer has a cottage industry involving 3,000 people working on the many embroidery techniques in India because Van Noten values embroidery work in every collection he puts out. His styles, again, vary – with some embroidery work being subtle and some standing out and being slightly louder.
Dries Van Noten has been communicating with his embroidery factory in Calcutta for about 25 years now and has invested time and trips between India and Antwerp to make decisions on threads, beads, and hues.
Kanye West donning a Dries Van Noten maharaja-style gold embroidered coat (S/S 2014) during Paris Fashion Week 2015 (Image via UpscaleHype)
3. Matthew Williamson's Jodhpur zariwork
Zari is a fine gold or silver thread, woven into fabrics and is traditionally used in Indian and Pakistani garments. UK fashion designer Matthew Williamson is recognized for his Indian influences on fashion, especially his zariwork, which is inspired by the traditional Jodhpuri attire from Rajasthan.
Matthew Williamson, S/S 2013 collection. (Image via Bykoket)
Williamson's work not only reflects quality tailoring skills but also his vibrant palette encompasses his cultural influences. While the colours scream passion and romance, they also transport one into a festival of colours, celebrating freedom and energy.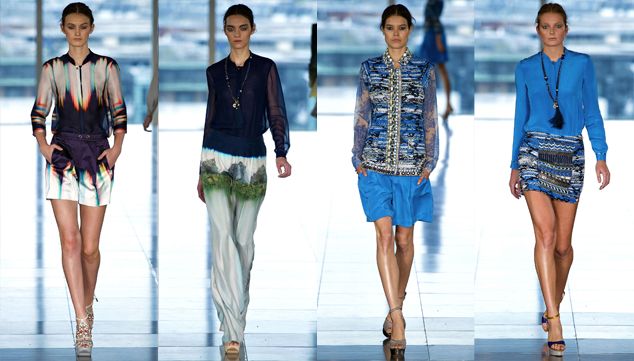 Matthew Williamson, S/S 2013 collection (Image via Styloko)
Apart from his use of colours and zariwork, Williamson's India-influence is also evident in his use of silk blouses with Nehru collars and decorative beaded panels on shirt collars and sleeves.
4. Bindis
Indian accessories cannot be left out in this conversation – especially not the bindi, which has decked out the likes of Gwen Stefani, Madonna, Katy Perry, Kylie Jenner etc. since the 90s, and still seems as alive as ever today.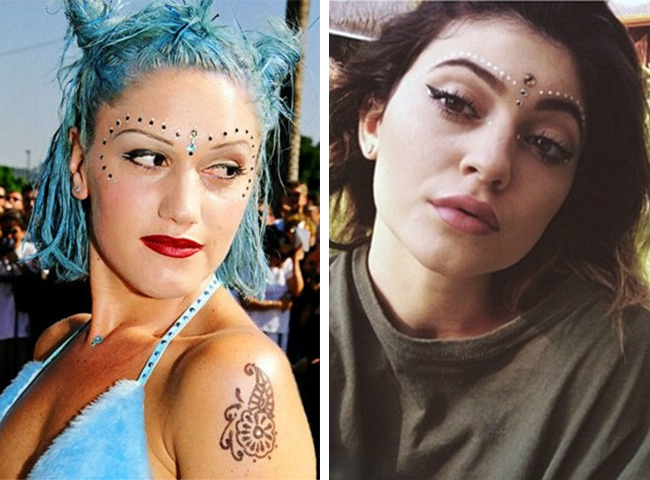 Gwen Stefani and Kylie Jenner embracing the bindi (Images via Shamelessmag and Dailymail)
In fact, designer Jean Paul Gaultier, for his fall/winter 2014-15 collection presented "Brits in space" but drew inspiration from the 60s era in Bollywood – complete with black bindis. A variety of looks were created for the models, and the Indian look materialized into building a towering beehive-like structured hairstyle, similar to that of Asha Parekh and Sharmila Tagore, finished with a black bindi, winged eyeliner and defined brows. Interestingly, while the look resonated a vintage Bollywood vibe, it also fit into the futuristic Goth London theme Gaultier was going for.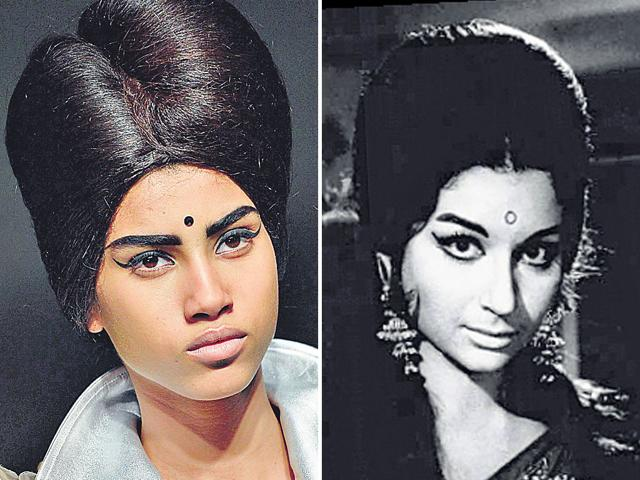 (Image via Hindustan times)
5. Marchesa's Indian Fairytale
Marchesa S/S 2013 collection (Image via Bykoket)
No Indian-inspired collection is complete without drapes and hand-sewn embellishments. Marchesa's Spring/Summer 2013 collection is no different, with its elaborate threadwork, sari draping and lots of fringes.
However, perhaps what stands out the most for me in this collection is what appears to be henna-inspired body décor in gold. Interestingly, this henna motif is realized on a mesh material churidar style pair of pants, combining two aspects of Indian fashion into a gorgeous looking garment.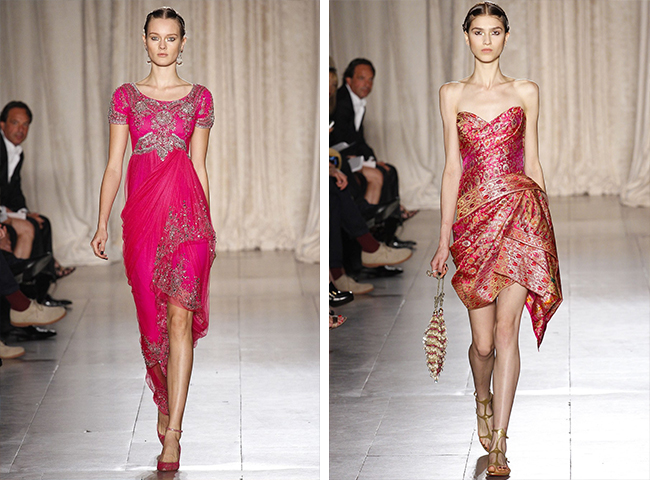 Marchesa S/S 2013 (Image via Vogue)
The US brand label also picked some obvious inspirations from the quintessential Indian saris. They applied the sari drapes to a sweetheart neckline dress, and also combined the sari and the sari blouse into one asymmetrical dress. The colours, again, are reflective of India's rich history of textiles and traditional crafts, and perhaps their use in Western fashion continues to keep them alive.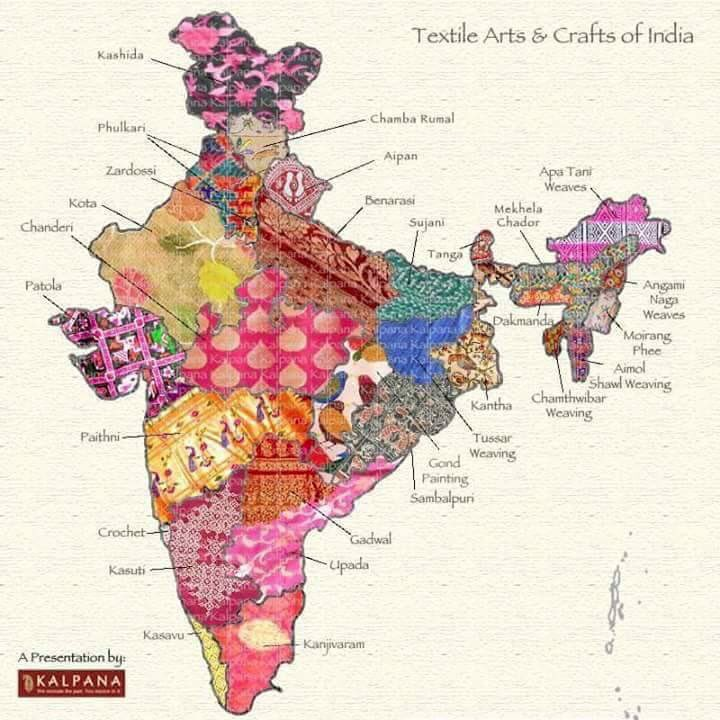 Textile Map of India (Image via Younews)
Ancient traditions in Indian fashion and design can be kept alive by studying and observing the wonderful possibilities of amalgamation between different cultures and myriad textiles. Indian textiles, patterns, fabrics and designs have influenced many fashion designers in the past and continue to do so in the present scenario too. This certainly emulates that fashion designers and brands worldwide are embracing the Indian prints and fabrics for their inspiration.
Perhaps fashion design institutes can incorporate an in-depth study on Indian textiles and the culture specific fashion as a part of their respective curricula.
PLAGIARISERS BEWARE!
This Website and its contents are subject to copyright protection under the Indian Copyright laws and, through international treaties for/ of other countries. The copyright in the contents and materials available on this Website as a whole is owned by the IIAD. However, the copyright in some contents and materials incorporated within this Website may be owned by third parties where so indicated. No part of the contents or materials available on this Website may be reproduced, licensed, sold, published, transmitted, modified, adapted, publicly displayed, broadcast (including storage in any medium by electronic means whether or not transiently for any purpose save as permitted herein) without the prior written permission of IIAD. The visitor may view this Website and its contents using Web browser and save an electronic copy, or print out a copy, of parts of this Website solely for visitor's own information, research or study, provided the visitor (a) do not modify the copy from how it appears in this Website; and (b) include the copyright notice "© 2014 to 2018 Indian Institute of Art and Design (IIAD). All rights reserved.″ on such copy.
IIAD's logo/ name should never be removed from pages on which they originally appear. The webpages should always appear exactly as posted without variation unless the prior written approval of the Organisation is obtained.