Are you the architect of your design career
I have a dream
Martin Luther King Jr began his groundbreaking public speech with these famous lines. For many, it was a defining moment to stand up for what they believed in. When deciding your path of growth, it's only appropriate that you take inspiration from this and fulfil your dream to be the architect of your design career.
Looking back, you may realise that design has always intrigued you. You might not have recognised it as 'design' but you liked to keenly observe and speculate where people lived, how they lived, how intelligently they used materials, how they created spaces, what techniques they used, what made their 'home' different from your own, and how fascinating their culture, geography and climate were. You enjoyed listening to the history behind these spaces, explored their creativity, symmetry (or dissymmetry) and other in-built intricacies. You were open to understanding how religion, economics and personal beliefs impacted people's lives and how they interacted with their environment. Often times you wondered if given the opportunity what you would do differently.
In fact, even when visiting theme parks or recreational centres you found yourself exploring the layout, setup, route maps or thinking of alternative design interventions. You realised that you had strong personal preferences, naturally liked working on projects and building models. You loved questioning, thinking, exploring alternatives but always within certain parameters and with a focus on the end result.
And now armed with these creative, analytical, and visualization skills, you decide to strengthen your technical knowledge, to help conceptualize and ideate how you want your world to look like. With your interests leaning towards design as a career, you're conflicted about pursuing Bachelor of Architecture, an Interior Architecture course or having an interior design degree. Here's an attempt to offer the clarity you seek. Let's begin with the basics.
Interior Architecture – Architecture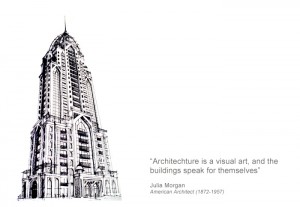 Colloquially, Architecture involves planning, designing and constructing buildings and other physical structures. Interior Architecture is the design of the spaces within these buildings and physical structures.
The Guggenheim Museum in New York, designed by Frank Lloyd Wright is considered to be an architectural icon and a work of art. The building resembles a white ribbon rolled into a cylindrical shape, slightly wider at the top than at the base. Its design was inspired by a 'ziggurat,' a pyramidal, stepped and inverted Babylonian temple. The museum's radical design reconsidered the concept of floors. Internally, the galleries form a spiral ramp. The ramp with its curved walls acts as a single level, defying traditional, rectilinear form, creating a unified experience of depth and dimension. Visitors entering the building, take the elevator to the upper floor of the ramp and proceed to descend gradually around an open atrium, having the option to go up or down at any time, to finally arrive at the end of the exhibition on the lowest level, near the exit. The principal characteristic of the building is that its walls are slightly inclined towards the exterior. Wright thought that paintings placed on a smoothly inclined wall could be better illuminated and seen with a better perspective than when hung in a purely vertical position.
At one time, there were very few architects like Frank Wright who believed in designing structures that were in harmony with humanity and its environment. He achieved this through design approaches that were well-integrated with the site, so buildings, furnishings, and surroundings became part of a unified, interrelated composition. Also, he was often seen designing interior elements for the buildings, as well as furniture and stained glass. Today, the relatively new discipline of Interior Architecture captures this philosophy taking into account the experiential side of buildings.
The subject of Interior Architecture stands at the intersection of architecture, the design of the built environment, and conservation. It addresses the design issues intrinsic to the re-use and transformation of existing structures through an innovative and progressive approach.
Space can be so much more than just aesthetics and when encompassing together the different aspects of research, cultural values and social sensitivity, it can evolve to tell a great story. So while architects design the buildings and the surrounding environment, interior architects are particularly trained to design the quality of the experience within by incorporating all aspects of human interaction with that structural space. So apart from designing the interiors, their work includes layout and space planning, fitting, technical and structural resolution, furnishing and decoration. In a way, interior architecture is the design of an interior in architectural terms and thus also involves technical drawings and necessary written documentation.
As Anubha Kakroo, Dean – Outreach and Corporate Relations
at IIAD says, 'apart from the exterior structure of a building whatever you do with the interior comes under the purview of Interior Architecture. It takes all of a person's hopes, dreams, aspirations and desires to give it a concrete form using material, texture, and objects to create the interior. One cannot inhabit a space without turning it into an interior.'
An interior architect's involvement in a project can happen at multiple levels –
During the development of the original design, plan and construction process
When redesigning is required to accommodate a changed intent for the space
When the existing architectural framework and context is challenged to make significant revisions in design to reuse a building's exterior structure or shell, as is often seen in the retail sector.
'Public spaces are constantly changing and people are reinterpreting interiors all the time. The shell of the building is only noticed when entering and exiting but most of our time is spent within its interiors. So most architects nowadays are in a way practising Interior Architecture as newer buildings are not being built as much as refurbishing, renovating and relooking at the existing building, spaces and environment are happening,' reiterates Anubha Kakroo.
This expands the scope of interior architects' work. Their design interventions are required in the commercial and residential sector, hospitality, educational and healthcare projects, retail, leisure, workspaces, community and public spaces, transit spaces, exhibition spaces, set design amongst others.
Interior Architecture explores architectural design, styles and history, building norms and safety, sustainable architectural practices, furniture design and materials, sound and light. It explores ways to preserve and restore old buildings, and sometimes convert them to suit other uses. It encourages lateral thinking being inspired by psychology, art, film, science, and sociology. It also provides an in-depth understanding of how economics and culture affect a given space.
To gain credibility in this field, it's essential to have a balance of creativity and critical thinking. Being open to rapid changes allows for the flexibility that is required to problem solve and enhance decision-making skills.
Interior Architecture – Interior Design
Both Interior Architecture and Interior Design focus on making interior spaces aesthetically beautiful and functional while determining how they will be experienced.  
Interior Design, developed from within architecture before becoming a distinct discipline. Interior designers work in collaboration with engineers and architects and generally don't get involved in any structural reconfigurations. They research, analyze, plan and design a physically, socially and aesthetically functional interior environment based on their understanding of its emotional aspects and how people will interact with the space. They create the look and feel of every room (walls, tiles, flooring, cabinetry), maximise lighting efficiencies (fixtures and placements), and furnishings (textiles, drapery, wallpaper). They intricately balance aesthetics with safety requirements. Their job requires them to have an eye for detail and be good communicators.
So their work can be differentiated from interior architects in terms of the technicalities involved in the design (elevators, stairs, plumbing requirements) vis-à-vis the fit-outs (interior partitions, finishes, furniture and equipment layout).
So now that you know, what now?
Over the last decade or more, the design sector has undergone major changes. Advancement in design education has considerably expanded the scope of the profession. This has led to the blurring of lines and given rise to Interior Architecture which has meant introducing a new breed of architecturally knowledgeable designers who have much more to offer to the practice.
It's a competitive industry and therefore it's essential to gain credibility by obtaining the necessary qualifications from an established and reputed Architecture and Interior Design Institute that dispenses knowledge not linearly but through a combination of its design studio and lectures; becoming members of an accredited architectural governing body; accessing every opportunity to interact with industry experts and proactively participating in real-life projects which strengthens the connection to reality. It's best to enrol into a distinctive program that equips you with architectural skills, develops your ability to draw, build a prototype and provides a really good understanding of materials and how they perform. It should help you to design deliberately and meaningfully and be able to respond effectively to the rapid changes in technology, trends, environment and people's habits.
Now that you've dreamt the dream, it's time to work doubly hard to accomplish it. What are you waiting for?