Students from St. Catherine University visit IIAD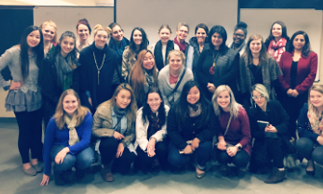 While on an exposure trip to India, students form St. Catherine University, located in St. Paul and Minneapolis, Minnesota, United States visited IIAD's campus as part of their travel itinerary.
Students from the women's liberal arts university got a chance to explore the campus and also understand the design education process that culminates at IIAD to prepare the next generation designers across disciplines of Fashion Design, Communication Design and Interior Architecture and Design. Most of the students from the group had declared their majors as Fashion and Apparel Design therefore, the presentations and discussions were heavily inclined towards the field of Fashion Design.
Before making a pitstop at selected design institutes in the Capital, the group from St. Kate's explored the culturally rich cities of Agra and Jaipur too.