Overview
The journey of a design student at IIAD begins with a one year program, the Foundation Diploma in Design. The Foundation Year will familiarize the students with what to expect in the next three years and will be the creative base on which their specialisations are built. The comprehensive Foundation Programme will be a bridging programme and will equip students with a core skill-set that will enable them to transition easily and effortlessly into the experimental, exploratory and rigorous environment of design education.
The first year will help them discover their design potential, learn the fundamental principles and mature into self-directed, independent learners ready to choose their design disciplines. Students will be able to identify their own innovative potential and become more confident, curious and imaginative. The primary purpose of the Foundation Programme is to develop a passion and rigour for further study in the field of communication, fashion and interior architecture design.
Upon completion of the Foundation Programme, students will automatically progress to their chosen design disciplines: B.A. (Hons) in Fashion Design, B.A. (Hons) in Communication Design or B.A. (Hons) in Interior Architecture & Design.
How We Teach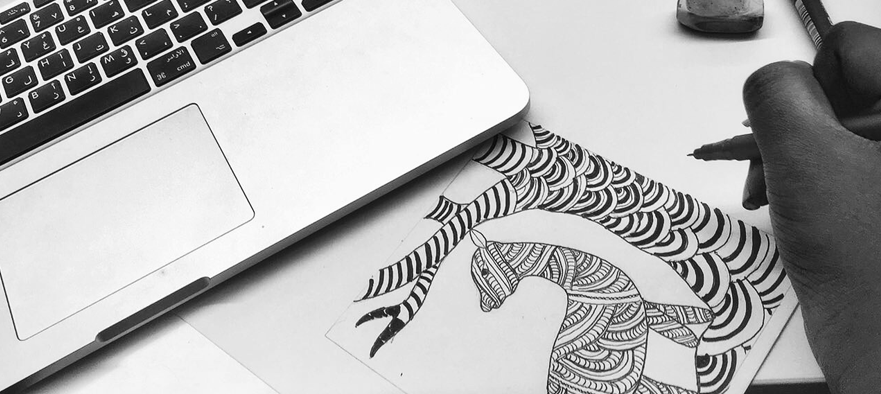 Design is a practice-based discipline that cannot be bound to the confines of a teacher-dictated, classroom-based approach. At IIAD, we have reimagined the future of design teaching where students learn through our innovative 'dream and make' philosophy. The teaching methodology is derived from a vision that combines a hands-on, making approach with the best of design theory. Within the Foundation Programme are a set of projects and modules that align creative imagination with process-based techniques, teamwork tasks with independent inputs, and faculty-led activities with student-driven initiatives. Large, open studios, interactive teaching sessions and a series of ideation-to-implementation projects have replaced the mundane classroom format, mindless rote-learning and archaic examination-evaluation methods of yesterday.
The innovative learning techniques help nurture the students' creativity and hone their ability to simplify complex thoughts. The Course Team will offer constant guidance with one-on-one problem solving and group discussions. Students are placed at the centre of this learning process as they are introduced to the concepts of design through meticulously designed modules.
The project work will be supplemented with theoretical and technical inputs delivered through demonstrations, tutorials, master-classes and guest lectures. Above all, students are taught the method of making extraordinary designs through the 'learning by doing' education practice.
What you learn
The Foundation Programme will take the aspiring designers on a learning adventure and will introduce them to the core of design education. It will expose them to a variety of materials, methods, techniques and technologies appropriate to the level of study that the first year demands. It will be a journey of discovery, where the combined inputs of design skills and creative knowledge will help the undergraduates shed their inhibitions in thinking and hesitation of doing thereby, leading them to become bold and creative.
This will get them closer to discovering their unique identity through design projects whilst developing other skills like time-management, effective communication, self-discipline and a strong work ethic. As their creativity takes shape and form, new challenges will further develop fresh attitudes and approaches.
Each of their interests and aspirations will be defined as they evolve into sensitive, responsive, reflective and inquisitive designers. With these experiences and creative freedom, they will learn to ask the right questions, find answers and question their own answers as well. This first year is marked with stimulating, time-bound projects and activities spread across four modules – Visual Skills, Material Transformation, Design Studio and Design Environment.
Course Description
Visual Skills
Ninety percent of all information transmitted to the human brain is visual. Visual Skills will introduce students to the concept of Visual Design. They will learn hand sketching and digital drawing with a focus on mediums and techniques. They will hone their perceptual ability to observe, interpret and use it as a tool to generate and communicate design ideas. Sketchbook practice and presentation design are other significant components of this module that will help build their individual creative expression and visual communication skills.
Being new to this visual world, students will also learn about the relationship between different visual elements and how to create visual harmonies and rhythms. They will be made familiar with typography basics and the concepts of visual unity and colour theory. They will also learn how good design is capable of creating a strong visual presence. As the year progresses, they will be encouraged to experiment further in order to identify their preferred media and techniques, as well as to arrive at a personal style of expression reflected through the distinct visual quality of their work.
Material Transformation
Material Transformation will develop the students practical knowledge about materials used in everyday life as well as in design practice, irrespective of the area of design. Beginning with basic sourcing and making skills, students will develop a sensitivity to handle different materials. Through active research, exploration and experimentation students will learn about the differences and limitations of various materials, their usage, and the possible techniques and processes that they intrinsically dictate.
They will realise how each material has a unique character of its own and within that discovery, will find their own way of responding to each of them. Eventually, they will begin to apply this understanding of material and skills of making to convert design ideas into tangible expressions (2D or 3D) of their interest. Many students begin a life-long relationship with the same material that once fascinated them during their first interaction.
Design Studio
Design Studio will introduce students to the basic design processes necessary to successfully develop ideas and concepts into intended expressions. The project framework will focus on imaginative and critical thinking for creative problem-solving. Students will be exposed to practical research as an integral part of the design process. The teaching approach will encourage them to question, explore and discover through practice and thoughtful reflection. They will understand design and its context through various experiences, by creating their own definitions and perceptions as project outcomes.
They will go beyond the existing know-how and knowledge and dive into self-led concepts. Students will be encouraged to investigate a given design problem and generate a variety of ideas to tackle it. Effective learning through trial and error and creating one's own reality is the key to an iterative learning. The learning experience in the Design Studio will find its way into every design attempt the students will undertake in the future and will form a strong column of their design practice.
Design Environment
Creativity is characterized by consistency and freshness. Design Environment will place the learnings of all the courses within a broader design context. Learning will be both, cerebral (intellectual) and experiential. It will provide that lens through which students can view and discover the world of design in a new light, particularly in terms of the interactions that take place within the studio environment, both during the designated time and beyond.
The undergraduates will learn how a changing environment influences design and how good design changes the environment. They will be introduced to a range of contextual references of design theory and practice. The learning process will be facilitated by basic research methods and tools to analyse, select and communicate information that is relevant to the project at hand.
Students will further develop the skills of visual documentation and design writing. This module will also encourage them to keep abreast of trends and updates in the creative world and identify what's most important in the demanding domain of the design industry.
Student Work
Shivangi Chaturvedi
Mohita Bhatia
Tanu Kapoor
Sulbha Kumari
Disha Arora
Arshveen Kaur
Faculty
Facilities & Resources
Equipment
Power Tools

Drill Cordless
Wood Planar
Dremel (portable drill)
Jigsaw
Router
Angle Grinder
Grinding Machine
Sanding Machine
BENCH DRILL
Heater
Hot Gun
Hot melt Gun
Digital weighing machine
Table Saw

Hand Tools

Hack saw
Hammer
Nose Pliers
Chisels of various types
File of various types like Rasp File , Half Round file
Hand Planar
COMPASS
DIVIDER
RIGHT ANGLE
Metal Vice
G Clamps
Wire Cutter
Triangular files
Measuring Tape
Steel Scale

Safety

First Aid Box
Asbestos Apron
Safety Goggles
Sand papers
Nails in kG
Screws/ pack
Digital Resources –
Digital Resource Centre with 60 Mac Workstations

Softwares

Adobe Creative Cloud (Photoshop, Illustrator, InDesign, Adobe Stock, Illustrator Draw, Typekit, Premiere Pro, After Effects, Dreamweaver, Spark Post, Spark Video and more),

SketchApp, Blender, Final Cut Pro,
Knowledge Resource Center  –
IIAD Library offers an integrated access to a comprehensive range of academic and reference titles on Fashion , Communication and Interior Architecture,, to understand and thrive in the Industry. Books can be issued and used for references.

Online – Delnet Library Network
Admissions
For detailed information on the Eligibility, Application Process and Fee Structure, please click here.