Overview
Fashion Business Management is ideal for those intrigued by the creative energy of Fashion but, at the same time would like to explore business aspects of the trillion dollar industry as well. Design agencies, fashion brands, retail stores and magazines are constantly in need of professionals with a creative aptitude along with a strong acumen for business and strategic planning. The Undergraduate and Postgraduate Programmes in Fashion Business Management are tailored to meet aspirations of individuals seeking to excel in leadership roles within the modern and dynamic fashion industry. The comprehensive programme, is the perfect source for acquiring practical managerial insights, validation of management concepts, and gaining valuable market knowledge.
How We Teach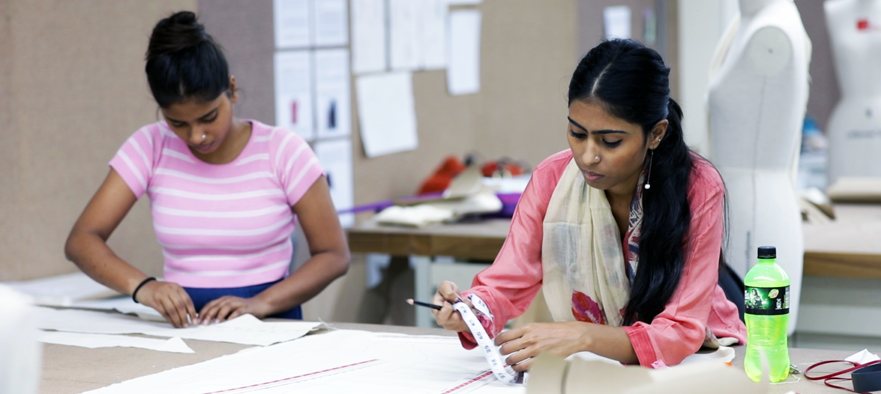 The Fashion Business Management programme at IIAD is specific to fashion business and management intensive careers. Therefore substantial focus is laid on ensuring participants are well-versed with the latest tools & technologies used to solve a large variety of challenging problems concerning the Fashion industry. Students learn these essential tools, techniques, skills and concepts through an array of teaching methodologies. The experienced Course Team uses a broad mix of projects, seminars, fieldwork, case studies, simulations and interactions with industry experts and practitioners to help students analyse the business of fashion. The content for each of these instructional methods has been thoughtfully designed to equip students with creative, technical, conceptual and business skills that will aid them in navigating the dynamic landscape of the fashion industry.
Experiential learning is inherent to the teaching-learning philosophy of IIAD and extends beyond the confines of a traditional academic classroom environment. Students work on assignments and participate in activities based on real-life situations and/or primary research that engages them in reflective problem-solving. Students are also encouraged to explore and hone their communication and articulation skills through presentations, report writing and pitches. Furthermore, summer internships and professional practice serve as vehicles for integrating academic learning with the real world context thus giving students an opportunity to experience the industry even before they graduate from the programme.
To know more about the teaching-learning philosophy of IIAD, click here.
M.A Fashion Business Management
Fashion being a fast-paced industry requires professionals with the acumen to drive successful fashion business models and units. Students of the Postgraduate programme in Fashion Business Management will explore and evaluate new fashion markets, products and trends from a commercial and strategic perspective. The Course Team will provide detailed insights on differentiating Luxury from Mass fashion; Haute-Couture from Ready-to-Wear besides understanding apparel, accessories and footwear as fashion business units. In order to promote and communicate the brand well, students will be trained to identify key success factors of a fashion venture. Intensive modules and projects enable deeper understanding of a product's life-cycle – from concept to production which is followed by marketing and sales.
During the programme, the graduates develop an understanding of the key role played by brand management and marketing in fashion using traditional and new media. The programme enables a sound understanding of customer expectations, market trends, brand loyalties, services and pricing models in addition to delivering an effective customer experience. Students will also analyse how a brand's image must be aligned with the distribution channel and brand/product portfolio for its success.
Critical skills like time-management, self-discipline and a strong work ethic are also nurtured and enhanced during the programme. Research, analytics and decision-making skills are seamlessly integrated in the curriculum and form an integral part of the teaching-learning methodology.
The program is subject to validation by the Kingston University, UK.
Career Opportunities
Students graduating in Fashion Business Management can explore the following domains as professionals in an industry worth billions of dollars worldwide. Graduates will also develop the necessary skills to become self-employed and build their own companies.
Fashion Brand Management

Fashion Merchandising

Product Management

Retail/Store Management

Fashion Buying

Fashion Promotion

Trend Forecasting

Visual Merchandising

Fashion Marketing

Public Relations

Event Management
Faculty
Facilities & Resources
Digital Resources
Digital Resource Centre with 60 Mac Workstations

Software

Adobe Creative Cloud (Photoshop, Illustrator, InDesign, Adobe Stock, Illustrator Draw, Typekit, Premiere Pro, After Effects, Dreamweaver, Spark Post, Spark Video and more)

WGSN Trend Forecasting Software – the World's leading trend authority
Knowledge Resource Center  –
IIAD Library offers an integrated access to a comprehensive range of academic and reference titles on Fashion , Communication and Interior Architecture,, to understand and thrive in the Industry. Books can be issued and used for references.
Online – Delnet Library Network
Admissions
For detailed information on the Eligibility, Application Process and Fee Structure, please click here.