Young Guns of the Fashion World
Today's India offers opportunities for the fashion industry. Demand is thriving; the supply chain has opportunities for growth, and the rest of the world is starting to pay attention to what India has to offer.
With the expanding economy, consumers have a greater allowance for spending on luxury goods, hence increasing the demand for fashion. From a supply point of view, the Indian fashion industry not only benefits from a rich and authentic textile history, but also cheap labour and production costs. With better communication and transportation channels, fashion designers are now able to outsource different stages of their production, as well as distribute to a wider audience through both offline and online platforms. Influential players in the country are also recognising fashion as a viable career option, and with schools and universities offering courses in fashion and textile design, young talent is booming.
Having taken their own journeys and paths to get here, it is worth mentioning the below key players who are creating waves in the scene currently for their contemporary approaches to fashion:
1. P.E.L.L.A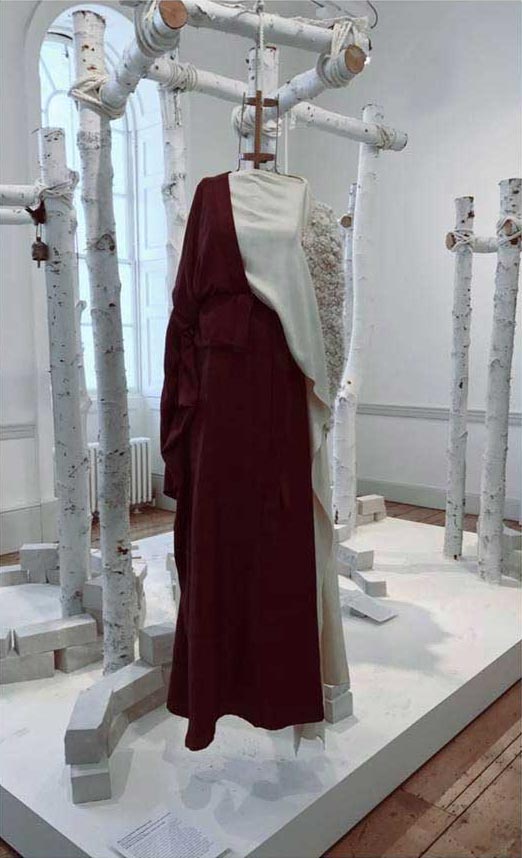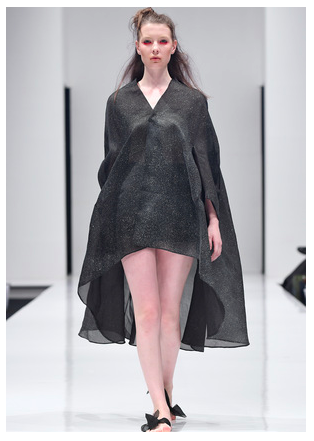 Made using indigenous Eri silk and yarn waste by P.EL.L.A.
Image credits (left): Facebook Page of Lakme Fashion Week
Image credits (right): Not Just A Label
P.E.L.L.A is an avant-garde label and is an acronym for the designer behind its making, Priyanka Ella Lorena Lama, who is still in her 20s. Priyanka grew up in Darjeeling and graduated from National Institute of Fashion Technology (NIFT), Bangalore with a degree in Fashion and Apparel Design in 2013, and has since been awarded several times for her simple, unpretentious designs. She practices the Art of Living – the meditative values of which she borrows into her work.
She was one of five designers selected by IMG Reliance to curate a piece of clothing at the International Fashion Showcase (IFS) during London Fashion Week last year. She follows a zero-waste philosophy and her pieces are fashioned out of natural materials to form organic silhouettes. The dress pictured on the left above has been developed from a single block of fabric and finished with hand rolling and blind hemming to achieve a boundary-less design. Priyanka hopes to continue working hard on the label and understand the business of retailing in an attempt to build the label in the coming years.
2. Kaleekal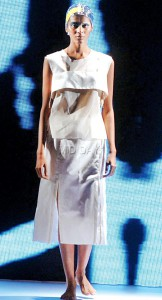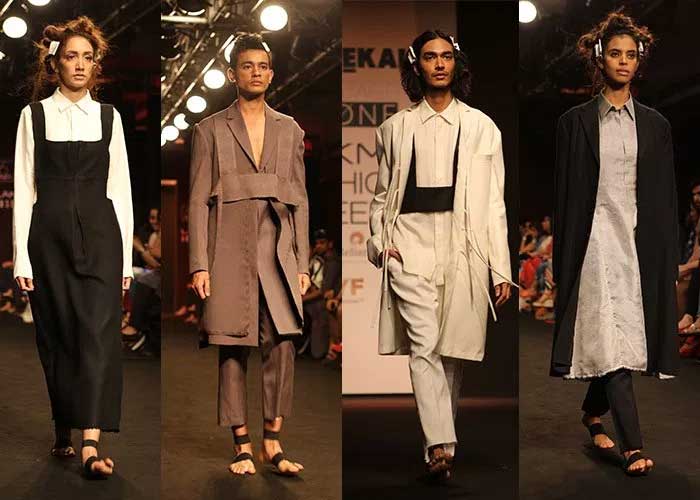 Image on left: Kaleekal Lakme Fashion Week, 2015 | Credits: Chini Fashion
Image on right: Kaleekal Lakme Fashion Week, 2016 | Credits: Verve Magazine
Kaleekal first debuted in March 2015 at the Lakmé Fashion Week (LFW) Summer/Resort 2015 in the Gen Next category. It is one of the first contemporary labels in India to question beauty and body norms because each of the brand's garments is unisex. Kaleekal is a label that believes in gender fluidity as opposed to binaries. Another distinct quality of the label is its raw and unfinished look – specifically the unhemmed edges and trailing threads at the edges of the outfits. It takes the confidence of the wearer to complete the look the brand provides, especially since the androgynous outfits will invite questions when debuted in a conservative society like India.
Kaleekal believes in marrying handlooms with contemporary styles. An interview with the designer behind the label, Alan Alexander Kaleekal, reveals that Kaleekal (his family name) was birthed simply because having already worked in several fashion houses in Paris, he did not want to work for yet another label but wanted to build his own ideas into a brand. The brand's 2015 debut collection was titled 'Age of Consent' and was made out of Kasavu cotton, Kerala's gold and off-white native fabric. The naive and innocent collection had sexual undertones and it evidently took inspiration from the awkward discovery of sex by young teenagers, as illustrated through the images above.
3. Pero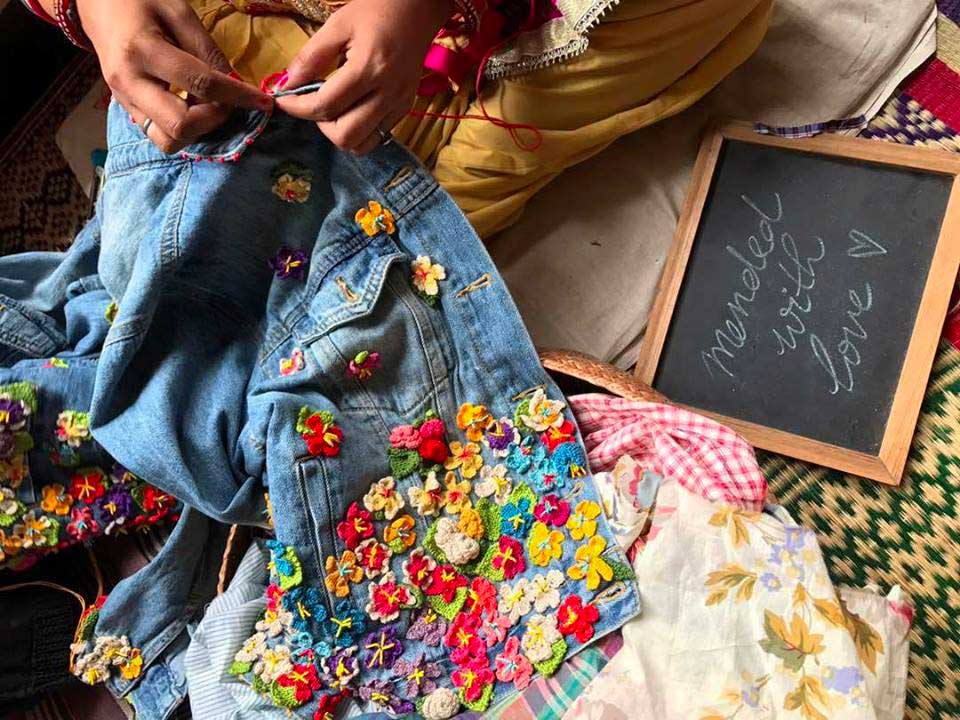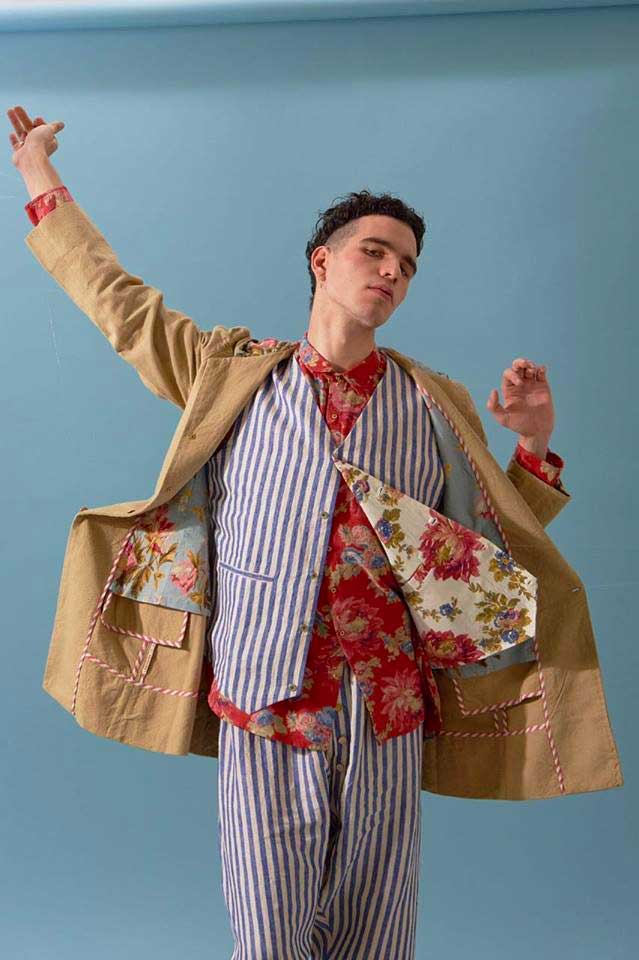 Colourful designs by Pero
'Pero' means to wear, and the designs from this label are inspired by the local style of the masses in India. The label makes clothing for both men and women and uses iconic traditional fabric from Gujarat and Rajasthan to form the base of majority of their pieces. A lot of beading and embroidery work goes into their colourful pieces, and they are so full of life, resembling a Spanish garden in bloom.
Becoming a fashion designer was nowhere on the radar for the designer behind the label, Aneeth Arora. But one thing led to another and she first joined National Institute of Fashion Technology (NIFT) in Navi Mumbai, pursued her masters in textile design at the National Institute of Design (Ahmedabad) in 2004 and got her big break in 2008 when she decided to try her luck in the Gen Next category of the Lakme Fashion Week. She got international exposure as a result and gave birth to Pero. About the label, Arora says, "I observe people a lot when I am at traffic intersections. I like to see how people are dressing and how they make clothing personal by adding an extra button or a patch to mend them."
4. Kanika Goyal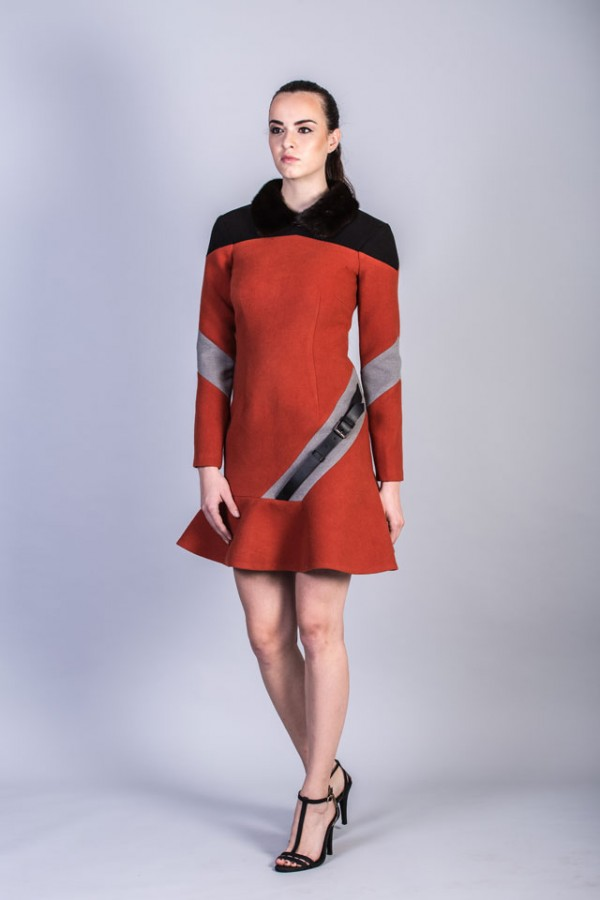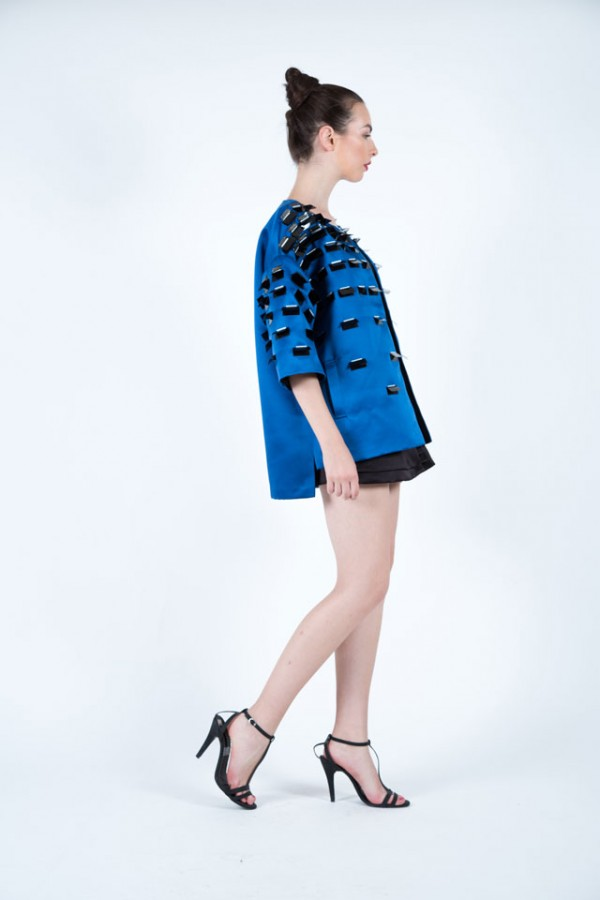 Kanika Goyal's Fall Winter 2015 collection
The label, Kanika Goyal enjoys paradoxes and celebrates minimalism simultaneously. One of the label's collections channels human evolution, capturing the essence of the coexistence of man and machine through boxy designs and structured flare. The designer behind the label is young, and has graduated from the National Institute of Fashion Technology (NIFT), New Delhi and later, from the Parsons School of Design, New York. She draws inspiration from architecture, strong lines and cuts, and aims to make the consumer feel "luxe" when clad in Kanika Goyal.
Pictured above on the left is a peplum wool dress in rust from the collection, which attempts to present a metamorphosis of colour through its primarily monotone pieces and rare colour-blocked additions similar to this dress. Another one of Kanika Goyal's collections (pictured above on the right) takes inspiration from the Internet age, attempting to capture the digital epiphany one feels through validation on social media. It is inspiring that this label proves it is possible to capture feelings into wearable fashion.
5. Nida Mahmood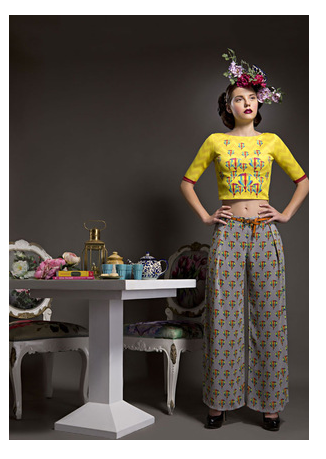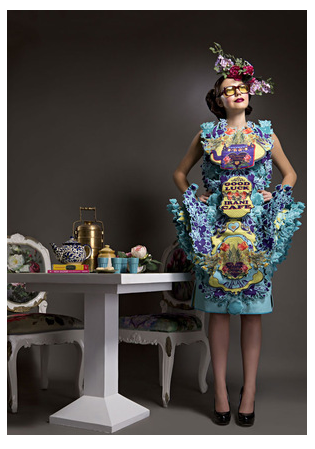 Good Luck Irani Cafe Collection by Nida Mahmood, 2015
Nida Mahmood's pieces are classy, elegant and quirky, mixing vintage patterns with modern techniques and silhouettes. The pieces in the images above are part of her 2015 'Good Luck Irani Cafe' collection, which draws from the memories of Irani Cafes in Bombay. The fashion designer is based in Delhi, and does all her production in India. Nida is sometimes known as the 'Queen of Kitsch' in the fashion industry, and as a visual self-taught artist herself, fabric is her canvas.
Observing her collections, especially 'The Adventures of Capt. Must! Qalandar (2014)' and 'High on Chai', one gathers that Nida Mahmood's strength is her ability to present an outfit as a person instead of just a piece of clothing. From the titles of her collections, to the art direction of the photoshoots and the choice of models, her collections are complemented by their holistic presentation. The designer says it took her a while to find her footing in the industry, but it was through observing India and its myriad colours, character, nooks and crannies that she realised who she stood for as a designer. Nida's advice to young designers is to focus and never lose sight of the target. "It is important to plant but there should be room to free fall in order to find new heights and to be able to surprise one's self," she says.
The above list of designers are just a handful in a pool of talented designers in the Indian Fashion scene that are making a statement with their distinct and powerful design aesthetics. Their designs prove they are risk-takers because, producing contemporary clothes in a market where the majority prefers to dress traditionally is a brave choice indeed. Through their contemporary choices, they are offering new perspectives about India to the world, and their success has proven that India is on a fashion-forward journey.
Currently, India's fashion industry accounts for only 0.2% of the world market. But, the growing number of designers, consumers, education institutes and boutiques illustrate that India is rolling over from its infancy in the industry to its growth stage. It is exciting to watch where the future of the Indian fashion industry is headed.
PLAGIARISERS BEWARE!
This Website and its contents are subject to copyright protection under the Indian Copyright laws and, through international treaties for/ of other countries. The copyright in the contents and materials available on this Website as a whole is owned by the IIAD. However, the copyright in some contents and materials incorporated within this Website may be owned by third parties where so indicated. No part of the contents or materials available on this Website may be reproduced, licensed, sold, published, transmitted, modified, adapted, publicly displayed, broadcast (including storage in any medium by electronic means whether or not transiently for any purpose save as permitted herein) without the prior written permission of IIAD. The visitor may view this Website and its contents using Web browser and save an electronic copy, or print out a copy, of parts of this Website solely for visitor's own information, research or study, provided the visitor (a) do not modify the copy from how it appears in this Website; and (b) include the copyright notice "© 2014 to 2018 Indian Institute of Art and Design (IIAD). All rights reserved.″ on such copy.
IIAD's logo/ name should never be removed from pages on which they originally appear. The webpages should always appear exactly as posted without variation unless the prior written approval of the Organisation is obtained.