Career Opportunities as a Communication Design Graduate
Here we are yet again with another blog from the exciting career prospect series! But, before we throw in big jargon and acronyms, let us wrap our head around the subject – communication design.
What is communication design?
Communication design, is an audio-visual language used to attract, inform, inspire and trigger a response from the target audience either to inform the end user about a product or service, build a brand, drive sales or to support a humanitarian cause. A field that includes the application of graphic design, animation and multimedia tools, communication design touches every aspect of our lives be it watching an ad on tv, playing a video game, using a mobile app, or getting enticed by an exciting book cover. It is a commercial art form that can be mastered with patient study and dedicated practice. Armed with tools of the trade, you will be tasked with visually enthralling the target audience.
Upon completion of an undergraduate degree in communication design you can look forward to beginning your professional career as a Junior Designer with any design studio or firm or can even venture out into the market as a freelancer. Irrespective of how high you scale the ladder, your main tasks as a communication designer would be to sell, entertain and inform the audience while adding a splash of aesthetics to the viewer's overall visual experience.
In this article, we shall walk you through some of the most exciting career prospects that are up for grabs as a communication designer whether your speciality is graphic design or other aspects of the dynamic field:-
Print Media Designer
Be it the morning newspaper you read with crisp layouts or the glossy magazine you catch a glimpse of on the stands or even a book off the shelf that grabs your attention; each of these have design elements that grab your attention and present information in an appealing, attractive and palatable manner. Wonder who the creative minds behind all these are? They are none other than highly-skilled graphic designers, also referred to as communication designers.
Print media design essentially comprises Editorial Design (newspapers and magazines), book design and any other design that will go under print. Editorial design is a stimulating domain that encompasses enhancing the look and feel of a newspaper, magazine or online publication by adding attention grabbing visual elements and improving the layout to enhance readability. Owing to huge volumes and periodicals in circulation, this industry demands stringent adherence to layout and typography rules and guidelines to appeal to a range of readers.
Yet another interesting sub-domain of the print media industry is Book Design that has recently positioned itself as an alluring career option for graphic designers yearning to quench their creative thirst. This design speciality can be further divided into two disciplines – book jacket and book interior design. The main motive though remains the same as that for fast moving consumer goods – to move the product off the shelves. The work of these two disciplines may or may not intersect depending on the publishing house you get associated with. Amongst the lot, mass-market paperback books are published in large numbers with 'hard-sell' book covers.
Some of the skills that one must have to sail through in the print media industry as a graphic designer are :-
In-depth understanding of the newspaper/magazine/book's content philosophy
Knowledge of the entire production process to envision how the type is set and printed
Good grasp over concepts of Typography
Strong sense of colour theory
Good command over design and multimedia softwares
Sound knowledge of layout or conversion optimisation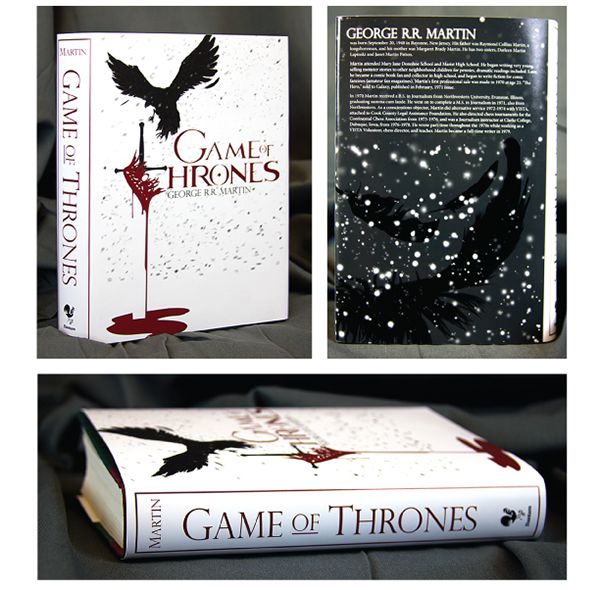 Game of Thrones book cover designed by Logan McGee, a US based graphic designer. Image Credits
UX/UI Designer
With technology making headway at lightning speed and end users not shying away from voicing their opinions on user interactivity, design specialities like UX (user experience) and UI (user interface) are gradually coming to the fore. Organisations have come to realise the importance of a usable interface for the successful launch of a digital product.
The broad responsibility of a UX designer is to create an intuitive and interactive product (design) that solves an end user's problem and gives them an enjoyable experience. UX designers concentrate on enhancing the overall experience of the user. In the case of a mobile application, this would include research, testing, the technical structure on which the application runs. UI designers tend to channel their energy towards perfecting the product layout to ensure that the app layout is easy to use and engaging. Ensuring consistency in design language and visual elements are aspects that fall under the purview of a UI designer.
Availability of advanced software allows a designer to incorporate sophisticated design nuances that amuse and at the same time fulfill a certain need of the end-user without compromising the overall aesthetic taste. Having said that, one must not confuse designing with mere constructing (that involves knowledge of few type fonts or ability to import images onto a page)! The mechanical aspects of programming and production are left to the respective experts. Skills that can come to your rescue while executing a UX/UI design project are as listed below :-
Sound understanding of technological parameters
Conversant in programming code to ensure you (designer) and the programmer are on the same track
Navigational acuity to effectively design and display the content
Sound understanding of the human temperament to better understand and anticipate the user's reactions
Strong analytical skills to consume and analyse researched data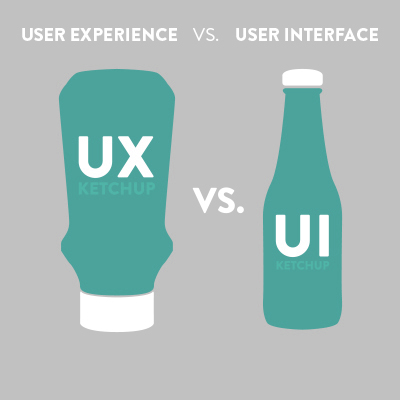 Image on the left depicts that UX design focuses on the product's functionality whereas the image on the right reflects how UI lays more emphasis on the aesthetic appeal of the product. Image Credits
Animation
Film titles, graphic cinematic sequences, trailers, bumpers (short promotional sequences before programs) or program openers are disciplines practiced under the umbrella term of motion design. While some designers choose to work with live action, there are others who find animation (2D/3D) thrilling and then there are yet others who challenge themselves by combining live action with animation (2D/3D).
Multimedia animators are creative professionals who develop visual experiences with the help of 2D/3D animation and visual effects like Computer Generated Imagery (CGI). Movie enthusiasts would be well aware of how CGI came to the rescue of James Wan, Director of Fast and Furious 7, during the untimely death of Paul Walker. Finishing Paul's role in the movie involved pairing 350 CGI frames of the actor alongside distant shots of his brother!
This just goes to show the level of skill and expertise required by animators to create a visual experience that is convincing yet engaging enough for the audience. Regardless of whether it's 2D/3D animation, designers use sophisticated 3D tools like Maya, Modo, After Effects, Nuke and Photoshop, draw storyboards, create models and work with sound engineers to ensure the movements and sound are in sync.
Finding a job may seem to be a mountainous task but let me assure you that there is no dearth of avenues in the marketplace for quality designers. Advertising agencies, graphic design studios, film and video production houses, gaming firms, mobile technology companies and the like are just some of the businesses that absorb fresh graduates.
Basic acting experience to understand how emotions and expressions work
Keen observation skills and inquisitiveness about life and general surroundings
Analytical as well as an artistic bent of mind
Strong awareness of colour theory
Good audio/Video editing skills
Knowledge of the entire digital media production process
Ability to gel well with a team and work cohesively
Excellent drawing skills
Characters from the 3D computer-animated comedy-adventure film, Zootopia, produced by Walt Disney Animation Studios. Zootopia bagged the Golden Globe for 'Best Animated Feature Film' at the 74th annual awards show. Image Credits
Information Designer
Imagine you have two documents lying in front of you, one stretches over 50 pages of pure text interspersed with numbers while the other is a 10-page document that displays the same content but with a crisp layout, digestible charts, graphs and infographics. What would you rather choose? It comes as no surprise that you would opt for the latter! And, the reason for this is quite simple too. Our brain is hardwired to be more receptive and attracted to visuals than text. To break-down text-heavy facts and figures into palatable information, we need skilled professionals like Information Designers.
Information design is an expanding arena under the realm of graphic design and communication design. Information designers use type and graphics to attractively display non-visual information (facts and figures) with a primary focus on function and utility. Their task is to intelligently interpret the non-visual information and present it in a manner that is easy to understand.
This is a trans-disciplinary profession that requires certain skills like the ones listed below :-
Good command over typography
Strong visual aesthetics
Proficiency in statistical analysis
Sound understanding of human behaviour
Keen observational skills with an insatiable interest in things other than design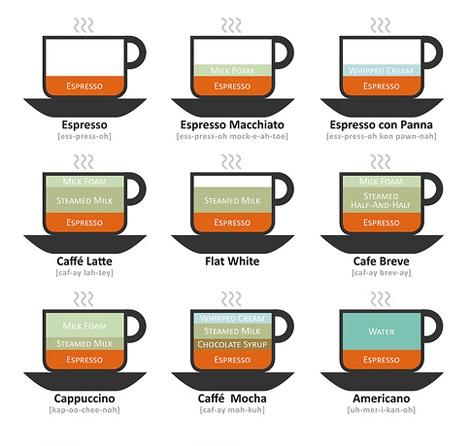 A crisp, clean and to the point illustration of the espresso drinks along with their respective pronunciations beneath the names. Image Credits
Type Designer
Fonts. We encounter them everywhere, be it in magazines, newspapers, books, way findings, bill boards, storefront displays, famous brand names, mobile apps we access or for that matter in this article that you are reading! Fonts like Helvetica, Bodoni, Times New Roman, Futura, Frutiger, Avenir and Proxima Nova happen to be the most commonly used fonts the world over and each has a history to it. But, not many of us would be familiar with the faces behind the fonts – Max Miedinger and Edouard Hoffman, Giambattista Bodoni, Victor Lardent, Paul Renner, Adrian Frutiger and Mark Simonson.
Type design is the skilled art and craft of designing typefaces or font families and the creative professionals practicing this art are referred to as Type Designers. Type design is often confused with typography which happens to be a technique of arranging type elements to make the written language appealing to read. Infact, most communication designers with a sound knowledge of typography do not really venture out into designing typefaces. However, type design is gradually being seen as a serious profession in India too with the likes of Satya Rajpurohit (Founder, Indian Type Foundry) who have set out to make fonts for the various Indic scripts including Devanagari.
Typography, an often overlooked aspect, is integral to good design and therefore, it is advisable that aspiring graphic designers get acquainted with type at an early stage in their career. While working with type, there are certain skills that will help you design better.
Proficiency in type digital tools like Adobe Photoshop, InDesign, Illustrator
Good at constructing vector shapes
Aesthetic sense of letter spacing and inter-character space
Sound understanding of hand-sketching techniques
An eye for detail and precision
English alphabet and number blocks from a type foundry. Image Credits
In order to create visual communication that leaves a lasting impression on the viewer, communication designers must possess the knowledge of font families, styles of type and how and when to best use them.
Regardless of the specialisation you wish to pursue, there are certain non-designing skills that are integral to a communication designer's repertoire.
Time management
Graphic designers seldom work independently. Working in a team exposes a designer to myriad contingencies. Clients always demand projects to be completed within stipulated deadlines, and this calls for a structured plan in place with enough room for incorporating inevitable disruptions too. Always remember, managing time is in your control!
Research
: designers need to indulge in extensive research while working on a project and draw creative insights from the data/information. Research and creativity must go hand in hand, in that, research should not weigh down the imaginative aspects of the particular design and make it less visionary.
Strategy
: being in a commercial setup, it is advisable to seamlessly integrate research, analysis and creativity. Doing so would mostly help you arrive at designs backed by strategic and tactful thinking.
Presentation skills
: in order to be a successful designer you will need to sharpen your presentation skills and be able to talk about your work objectively and with conviction. Presentation happens to be the most fundamental aspect of being a designer as at every stage in your life you would be required to present your work to a senior or a panel for approval and further action.
Writing skills
: most often clients shortlist designers after skimming through their written proposals. To be able to make an impact at this stage calls for developing the skill of writing short, sharp, easy to understand sentences explaining the creative proposal in few words. In addition to this, at times clients also request designers to write copies for advertisements and other branding collaterals that they are working on. So, do not shy away from language skills and use them to bag the project from the client.
Communication Design and its sub disciplines require one to have sound technical knowledge and the skill to adapt an idea to the needs of a client. Given the technical and skill-intensive nature of this field, it may be prudent to invest one's time in a quality design programme at a college that offers a specialized degree in this field. Good design institutes help the students learn the artistic and technical nuances of the discipline as well as provide opportunities for project-based and experiential learning. After this, on-the-job experience gives direction to one's aspirations. Therefore, grab all worthwhile opportunities that come your way as each of them will be a life-learning experience that will add layers to you as an amateur designer.
Featured Image Credits : Jon Tyson
PLAGIARISERS BEWARE!
This Website and its contents are subject to copyright protection under the Indian Copyright laws and, through international treaties for/ of other countries. The copyright in the contents and materials available on this Website as a whole is owned by the IIAD. However, the copyright in some contents and materials incorporated within this Website may be owned by third parties where so indicated. No part of the contents or materials available on this Website may be reproduced, licensed, sold, published, transmitted, modified, adapted, publicly displayed, broadcast (including storage in any medium by electronic means whether or not transiently for any purpose save as permitted herein) without the prior written permission of IIAD. The visitor may view this Website and its contents using Web browser and save an electronic copy, or print out a copy, of parts of this Website solely for visitor's own information, research or study, provided the visitor (a) do not modify the copy from how it appears in this Website; and (b) include the copyright notice "© 2014 to 2018 Indian Institute of Art and Design (IIAD). All rights reserved.″ on such copy.
IIAD's logo/ name should never be removed from pages on which they originally appear. The webpages should always appear exactly as posted without variation unless the prior written approval of the Organisation is obtained.